TEMPTU Now Available in Canada!
The TEMPTU family is very excited about all the growth we have had this year!  TEMPTU AIRbrush Makeup has graced the faces of several stars and starlets, our Facebook fans have grown in numbers from 200 to over 3400, we paired up with Kat Von D to produce a temporary tattoo set, and our AIRbrush Makeup, RETOUCH, and ADORN lines were picked up in 150 Sephora stores nationwide.  Right now we couldn' t be more excited about our newest locations opening over the next week!  Starting today the TEMPTU Makeup and ADORN Temporary Tattoo line with be available at 24 Sephora locations in our neighbor to the north Canada.  This will be the first time TEMPTU AIRbrush Makeup will be available for purchase in stores outside the US!  You can get a complete list of locations on our website.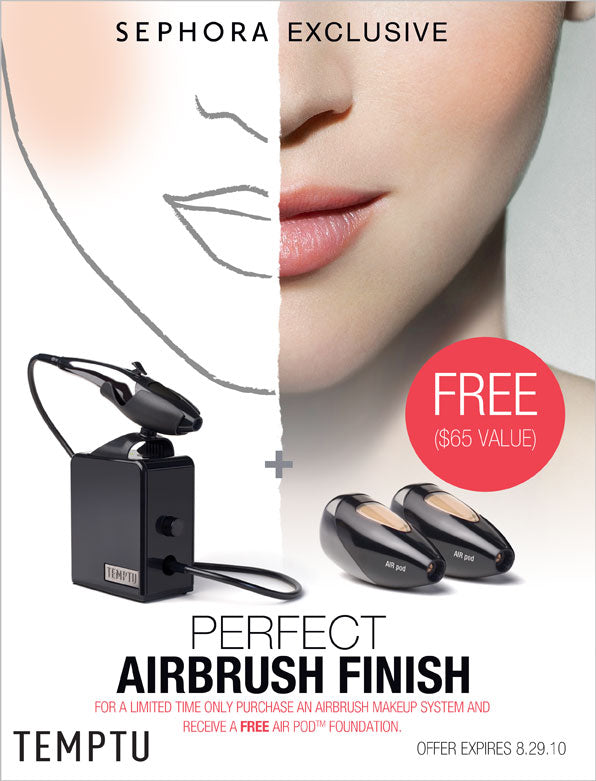 If you are in Canada, now is the time to take advantage of a special offer we have going on until August 29th.  When you purchase an AIRbrush Makeup System you'll get an AIR pod Foundation duo as our gift to you.  That's a $65 CAN value!  What a great way to start your TEMPTU experience!
---
Leave a Reply